KOPRON IN THE BIG 5 CONSTRUCT QATAR FAIR
Industrial steel buildings, loading bays and doors at The Big 5 Construct Qatar Fair
Doha, from 23rd to 25th September 2019 stand No. 2C51
From 23rd to 25th September 2019 at the Doha Exhibition Convention Centre, Qatar hosts the second edition of The Big 5 Construct Qatar, the international fair that satisfies all needs of the expanding construction industry in the country. Kopron, an Italian leader in Europe in the field of logistic fittings, will be participating in the fair and will present its innovative products for the Arab world. The main elements include temporary and fixed industrial steel buildings, loading bays and industrial doors. The Kopron world will be represented in a specifically built stand, in the Building Envelope and Special Construction Hall. The Kopron representatives will welcome visitors at the stand number 2C51.
Innovations will include automation elements, the structural part of the products (much more compact and transportable) and design will be much more modern and current. Other novelties from a logistic point of view can be found in the optimisation of the models of some of the loading bays and the integrated safety systems.
The fair is divided up into 7 fields that embrace the whole world of construction, from services to finishes, from materials to technologies and construction innovation, right through to machinery and plants. The fair that brings together professionals and companies in the world of construction, is the most important international fair in the field of building and construction. More than 240 exhibitors will take part in this event, the very best companies able to present novelties in this field.
Mario Vergani, Managing Director of the Kopron Group, firmly believes in foreign expansion and states: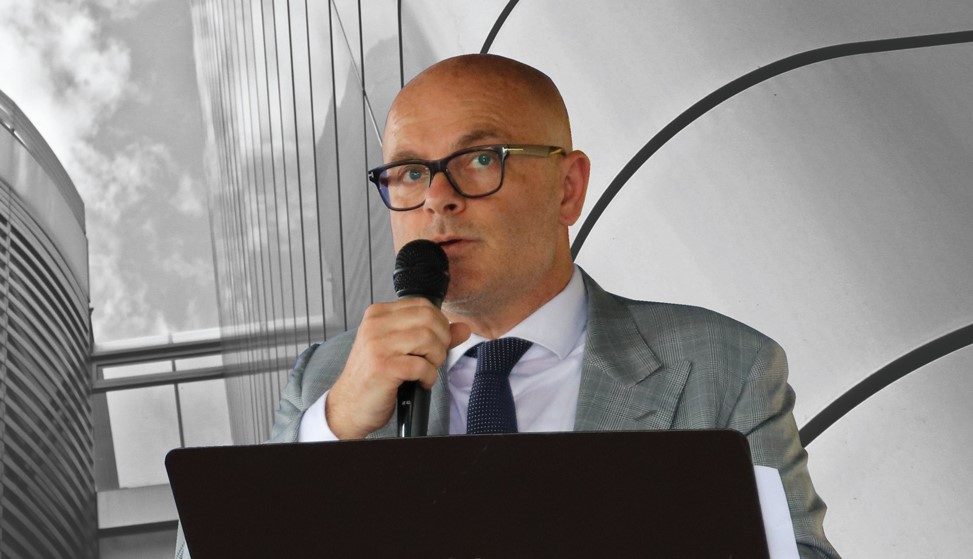 "Qatar is a country undergoing huge growth, with a strategic position in the Gulf, the protagonists of important developments. I believe that Kopron products and solutions can help and improve the field of constructions on site, just a little. We are ready to diffuse our three main lines of products and solutions throughout the market: warehouses, loading bays and closing systems."
Franco Lombardi, Export Manager for Kopron, will be attending the fair, presenting the most suitable solutions and products for the local market:
"First of all we believe that our loading bays can provide a contribution towards optimisation of logistic flows in a technologically advanced manner. We are sure that the wide range of industrial doors systems (sectional doors, folding doors and high speed doors) will integrate perfectly with the architecture of the areas with advanced design and functionality. Our temporary or fixed steel buildings can help in many fields in order to increase storage space or production sites in a very short amount of time. Our strong point for this market also is product personalisation according to specific customer requirements and demands".
For further information:
KOPRON SpA
Via Primo Maggio sn20064 Gorgonzola (MI) Italy
T | +39 02 92152 1
F | +39 02 92152 920
Carolina Vergani
Marketing & Communication Manager
carolina.vergani@kopron.com
Mobile | +39 349 295 19 04
About Kopron -
KOPRON is a leading Italian company in the field of industrial logistics with three main product ranges: mobile and fixed warehouses, loading bays, industrial closing systems . Success has matured over more than 35 years of activity in Italy and throughout the world. An expanding group in more than 50 countries and direct headquarters in the main emerging markets.
Kopron, is a world known consolidated production reality. The wide range of products meets the requirements of any type of industry. Kopron operate in 5 different sectors: Logistics, Sport, Living, Service and Engineering. In over 35 years of activity they have reached the highest quality standards in design, production, assembly, and after sales support.
The company's core business, Kopron Logistic Solutions, proposes solutions which aim to optimize industrial logistics flows: temporary and fixed industrial steel buildings for storage of materials or hosting production activities. Loading/unloading systems: key components for the safe and efficient flow of goods. The loading and unloading bays consist of four vital elements that are available in different models: Dock levellers, Dock shelters, Sectional doors, Vehicle restraints. From design to after-sales assistance, a turn-key service is guaranteed in full observance of integrated design. A wide range of doors either industrial or residential. These are a new concept of doors produced with material of good quality and an exclusive design: sectional doors, quick sliding high tech doors, high speed doors, folding doors and sectional doors for garages. They can be used for frequent passages of vehicles, for dividing departments and for defining parking areas always guaranteeing functionality and safety for all the operators.
Thanks to sister-companies in France, China and Brazil and to the support of sales agents and retailers around the world, they have increased their quotes in Eastern European markets as well as in the Asian and Southern American ones.
Kopron's target is to expand their business also in the Arabian Market. Innovation, and made in italy quality is what the company wishes to bring to offer the best to local customers.
An International Organisation
Compliance with the highest quality standards in design, construction, installation and after-sales assistance, constant development and professionalism in sales relations are the keys to the success of Kopron, a leading European production oriented organisation in the field of industrial logistics.
Kopron has always invested in research and development and in the creation of exclusive patents according to strong market orientation. Thanks to its experience and qualified know-how, the company, run for more than 35 years by the first founders, the Vergani family, has made its mark on the market for its logistic solutions and advanced products in technology and design, capable of satisfying the requirements of every organisation.
Kopron is currently an international organisation that still preserves the typical characteristics of the Italian companies that are very aware of customers and work towards product improvement and the diversification of solutions.
Products and Solutions
Kopron Logistic Solutions is the core division serving industrial logistics since 1982, born with one single mission: improving the optimising the logistic flows of every organisation. A complete range of products, with the highest possible level of quality currently available to even the most demanding of Customers: fixed and retractable steel buildings made from PVC curtains or sandwich panels, systems for loading and unloading of goods, industrial transit doors.New divisions are born every year within the group from the Kopron experience in order to serve its Customers in the best possible way: Kopron Service, an important decision dedicated to customer care and after-sales assistance; Kopron Sport, a division dedicated to the creation of structures for sports activities; Kopron Living dedicated entirely to the consumer market with elegant garage doors.
Kopron has its own engineering and specialised production divisions. Products of all kinds are created from woodwork according to orders received, for small and large products, this division is called Kopron Engineering.

Elisha Dessurne Public Relations Executive, dmg events (Doha) LLC